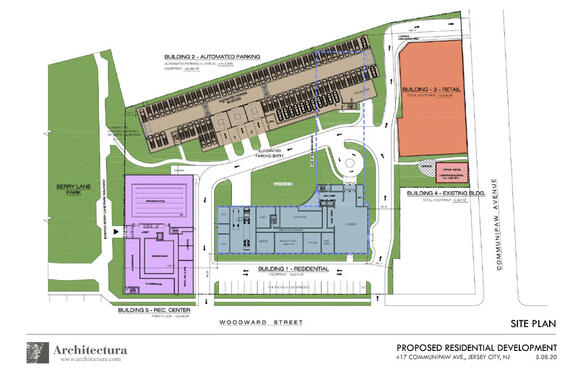 JUN16
What does a Community Center, 20 Story Building, 5% Affordable Housing + Supermarket Have in Common?
Tue, Jun 16, 6:00 PMGoing?
6 Going
Event details
Be sure to log onto the Zoom Community Meeting on June 16th at 6pm to voice your feedback! Please see below for some details of the proposed Berry Lane Park – North Zone of the Morris Canal Redevelopment Plan. This is the area that Steel Technologies used to occupy, at the Southwest corner of Communipaw Avenue and Woodward Street. It is currently zones for 5 stories and is an Industrial Zone. There will be a Zoom Meeting on June 16th at 6pm where the proposal will be explained. This matter is scheduled to go before the Planning Board for a vote at the public hearing on Tuesday, June 23rd at 5:30pm. Some of the items the proposal calls for are… 1) The developer of this zone will have to construct a community center of at least 24,000 square feet on Woodward Street, adjacent to Berry Lane Park that will be deeded to Jersey City. 2) The developer will be allowed to build up to 20 stores tall (210 feet) on Woodward Street. 3) The minimum percentage of affordable housing units required in the zone are proposed to be at least 5% of total units built. The affordable housing would be for households with incomes up to 80% of AMI (Area Median Income) 4) The proposal calls for allowing density of up to 125 units per acre. The site is approximately 3 acres which translates to a maximum of approximately 450 total units of which a minimum of 5% or approximately 23 units would have to be designated as affordable housing. 5) There is a proposed parking minimum of .5 spaces per unit and a maximum of 1.5 parking spaces per residential unit. 6) The proposal requires the developer to construct a retail space of at least 10,000 square feet fronting on Communipaw Avenue to attract a grocery store to the space. The developer has the option of constructing a pocket park and public surface parking in the same location if they cannot attract a grocery store to the location. 7) The proposal allows for the following uses in the Berry Lane Park – North Zone a. Multi-family Residential b. Community Centers c. Offices d. Medical Offices e. Retail sales of goods and services f. Farmers Markets g. Restaurants, Category one and two h. Bars i. Any combination of the above You can't post PDF on Nextdoor.com. You can access the complete details of the proposal from our google drive at https://drive.google.com/drive/folders/1CTd9pKZp_vBTc9uy_c1tESX4ZQG5vXGy?usp=sharing A message from City Planning regarding this matter… Councilman Robinson and the Division of City Planning are holding a community meeting on 6/16/2020 at 6pm via Zoom. Please share the invitation links and phone numbers below with your contacts. The latest version of the proposed amendments are attached as well as a preliminary site plan from the petitioner of the amendments. Also attached is a conceptual site plan from 2008 of the Steel Technologies expansion of Berry Lane Park. JCRA, at one time, was attempting to acquire the property without condemnation but were unsuccessful at coming to an agreeable purchase price. Other than the onsite 5% affordable housing requirement, there are many components in the latest version of proposed amendments that carry through ideas and attributes of the 2008 site plan: -A community center facility deeded to the City -Off-street public parking deed to the City -A gateway/public access through the site to the Park from Communipaw Ave -Preservation of the Steel Tech Head House -An option for open space/pocket park along Communipaw Ave intended for farmers markets or similar events -Design language typing in Landscape Architecture of Berry Lane Park and Industrial past of the site. The proposed amendments including any changes that may be borne out of the 6/16 community meeting will be presented to the Planning Board at their 6/23/2020 public meeting. I look forward the community meeting and should you have any questions I would be happy to schedule a call. COMMUNITY MEETING INFORMATION: When: June 16, 2020 06:00 PM Eastern Time (US and Canada) Topic: Morris Canal Community Meeting – 417 Communipaw Ave Description: Councilman Robinson and the Division of City Planning are hosting a community meeting to discuss proposed amendments to the Morris Canal Redevelopment Plan at 417 Communipaw Ave aka Steel Technologies site.
Matt Ward Principal Planner Division of City Planning